The 2014 Spring/Summer Idea Book goes live in almost a week!!!

In the upcoming week, I will continue to feature one of my favorite new products from the Idea Book! I hope you'll stop in every day to see the fun new stuff!!!

MY REFLECTIONS PAPER PACKS

Each new Idea Book, CTMH releases at least 6 new paper packs. The 7 new ones in this Idea Book are A-MAZING!

Today let's talk about IVY LANE! I just love the patterns and colors in this paper pack. I think it's perfect for Valentines day, BUT it's pretty versatile as well.

I created this layout for my team swap. I actually used Cricut Craft Room for the first time on this one as well (to cut the title and save paper). I used the Ivy Lane Workshop on the Go Kit, Pink Glitter Paper and the new Paper Fundamentals Basics Assortment. WOW, those are some AWESOME new papers right there! The Pink Glitter Paper- of course I LOVE! The Paper Fundamentals are incredible-- 20 double sided sheets with the same design on both sides. One side has a glossy resist pattern, while the other side repeats the pattern in white. SO COOL! I also used the new Purple Glitter Gems and Metallic Bakers Twine. I cut an overlay from Artbooking for my layout as well.


I also created a card for my team swap. I used a pattern from Make it From your Heart Vol 2. The stamp set used here is a new one: Mother's Day. How awesome is this sentiment?!?!?! Again I used the Pink Glitter Paper (this might become an obsession) and Metallic Bakers Twine.
Here is the Ivy Lane Paper Pack: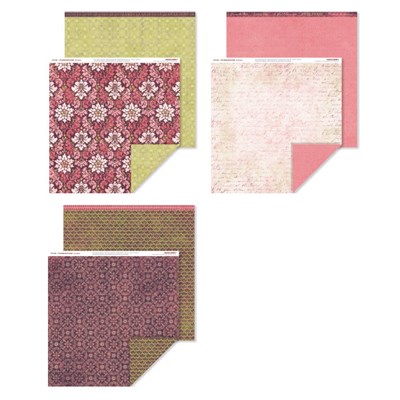 And some additional artwork:
Don't forget to come back tomorrow for more :)